n Africa, homosexuality is illegal for gay men in 29 countries and for lesbian women in 20 countries. The legal status in many ways mirrors the widespread homophobia on the continent, documented so clearly by statements made by, for example President Mugabe of Zimbabwe, President Nujoma of Namibia and President Museveni of Uganda. But it does not fully describe the situation, as African gay and lesbian organisations also can refer to many victories over the last years.
South Africa stands apart when it comes to the legal status of gays and lesbians in Africa, and stands comparison with Western European countries. Not only is homosexuality legal and visible, but there exists a national legislation which bans discrimination on the basis of sexual orientation. Gay and lesbian office bearers are not unheard of. Annual gay pride parades are arranged, with substantial participation.
Zimbabwe is more known for its homophobia and extreme statements made by president Mugabe, including various claims that homosexuality is not an African phenomenon but rather a Western decadency. Homosexuality is illegal in Zimbabwe, and some individuals have been prosecuted and convicted for their sexual orientation, including the countries first president, Banana. On the other hand, there are very active and very visible gay and lesbian organisations in Zimbabwe, that have succeeded in creating a (not always too fruitful) public debate on the issue. Even if homosexuality remains illegal and condemned by state officials, these organisations have won several law suits against the Government, trying to silence them, and the matter of homosexuality is coming out of the taboo closet.
In Namibia, the legal situation is even more confusing. ILGA, the International Lesbian and Gay Association, states that the legal position in Namibia is "uncertain", as there are contradictive statements coming from the Government. In April 1999, Namibia's deputy home affairs minister, Jeremiah Nambinga, was seeking to criminalize gay sex because he believed it is evil. This would, however, implicate that gay sex was not illegal. On 25 June, the High Court ruled that lesbian partners have the same rights as heterosexual couples in a legal suit were a lesbian foreign women fought for her right to stay in Namibia based on her relationship with another woman. Some Government statements, however, have been extremely homophobic, such as a statement by the Minister of Home Affairs, Jerry Ekandjo, to graduating police officers urging them to "eliminate" gays and lesbians "from the face of Namibia" in September 2000. Local gay and lesbian organisations, however, are present and visible and contribute to the national discourse. Thus, Namibia probably should have been listed under the legal countries in the table below.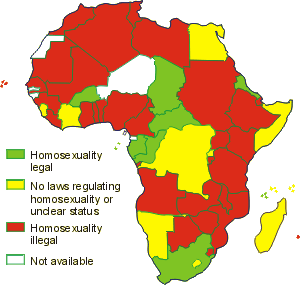 In Uganda, homosexuality is illegal and persecuted. Uganda has been the last country were gay and lesbian rights groups have been attacked by the Government. In September 1999 president Yoweri Museveni instructed Ugandan police to lock up and charge homosexuals. In October 1999 five members of the newly formed organisation, Right Companion, were arrested and deported to so-called 'safe houses.' One of the activists was raped twice, all were beaten, the recognised South African gay Internet site The Mask reports. Gay activists since then have continued to be persecuted and in June 2000, Ugandan police was covering up the murder of a member of Lesgabix, a lesbian and gay grouping in Kampala. The fact that several gay and lesbian organisations have appeared lately, however shows that there is a change of mind in the public opinion and that the topic is starting to be discussed.
In most of Sub-Saharan Africa, however, homosexuality still is not a matter of public discussion, and the legal status of homosexuality does not state much about the status of homosexuals. Taboos in the general public are far more relevant. That does not mean there does not exist an underground gay/lesbian society, but not being an issue of public discussion, even individual awareness of homosexuality can be low. Most African languages however have words for "gay" and "lesbian", demonstrating a traditional knowledge of the existence of this sexual orientation. Official gay or lesbian couples/families however mostly remain unheard of. As for the legal status, the majority of West and East African nations that have law provisions on homosexuality have forbidden it, with some notable exceptions. In Guinea (Conakry), for example, where the law text outlawing homosexuality is not available, its illegality is known to the gay society. One source told Queer afrol; "Gay Guineans often told me that one could go to jail if ever caught having sex with another man."
In Mediterranean Africa, on the other hand, there are outspoken policies towards homosexuality, mostly founded in the Shari' a law. Homosexuality thus is forbidden in most North African countries, as it is in most Middle East countries. Egypt states one exception in not prohibiting homosexuality and has had some degree of public debate on the matter. Even so, gay Egyptian men have been prosecuted at several occasions (the last time in 2001) for belonging to "Satanist" groups, following police raids on places frequented by homosexuals.
Putting matters to the extreme, however, is the February 2001 case in Somalia, were a lesbian couple was sentenced to death found guilty of "exercising unnatural behaviour". Somalia has no laws regulating homosexuality and its general legislation is loosely based on the Shari' a law. This brutal case shows that there often is little connection between legal status and legal practice, as the Muslim court in Somalia based its sentence on wide formulations, and to a big degree, on the cheering crowd outraged by the mere existence of homosexuality in Somalia
.
Legal status of homosexuality in 1998/99 (by ILGA)
| | | |
| --- | --- | --- |
| Country | Lesbians | Gays |
| Algeria | Illegal | Illegal |
| Angola | Illegal | Illegal |
| Benin | Illegal | Illegal |
| Botswana | Not mentioned | Illegal |
| Burkina Faso | Legal | Legal |
| Burundi | Illegal | Illegal |
| Cameroon | Illegal | Illegal |
| Cape Verde | Illegal | Illegal |
| Central African Republic | Legal | Legal |
| Chad | Legal | Legal |
| Comoros | Legal | Legal |
| Congo Brazzaville | Legal | Legal |
| Congo Kinshasa (DRC) | Not clear | Not clear |
| Côte d'Ivoire | Not mentioned | Not mentioned |
| Djibouti | Illegal | Illegal |
| Egypt | Not mentioned | Not mentioned |
| Equatorial Guinea | Not available | Not available |
| Ethiopia | Illegal | Illegal |
| Eritrea | Legal | Legal |
| Gabon | Legal | Legal |
| Gambia | Not available | Not available |
| Ghana | Not mentioned | Illegal |
| Guinea | Not available | Illegal |
| Guinea- Bissau | Not available | Not available |
| Kenya | Not mentioned | Illegal |
| Lesotho | Not mentioned | Not mentioned |
| Liberia | Illegal | Illegal |
| Libya | Illegal | Illegal |
| Madagascar | Not mentioned | Not mentioned |
| Malawi | Illegal | Illegal |
| Mali | Illegal | Illegal |
| Mauritania | Illegal | Illegal |
| Mauritius | Illegal | Illegal |
| Morocco | Illegal | Illegal |
| Mozambique | Not mentioned | Illegal |
| Namibia | Position uncertain | Position uncertain |
| Niger | Not available | Not available |
| Nigeria | Not mentioned | Illegal |
| Reunion | Legal | Legal |
| Rwanda | Not mentioned | Not mentioned |
| Sao Tome and Principe | Legal | Legal |
| Senegal | Illegal | Illegal |
| Seychelles | Not mentioned | Not mentioned |
| Sierra Leone | Not mentioned | Not mentioned |
| Somalia | Not mentioned | Not mentioned |
| South Africa | Legal | Legal |
| Sudan | Illegal | Illegal |
| Swaziland | Illegal | Illegal |
| Tanzania | Not mentioned | Illegal |
| Togo | Illegal | Illegal |
| Tunisia | Illegal | Illegal |
| Uganda | Not mentioned | Illegal |
| Zambia | Not mentioned | Illegal |
| Zimbabwe | Not mentioned | Illegal |